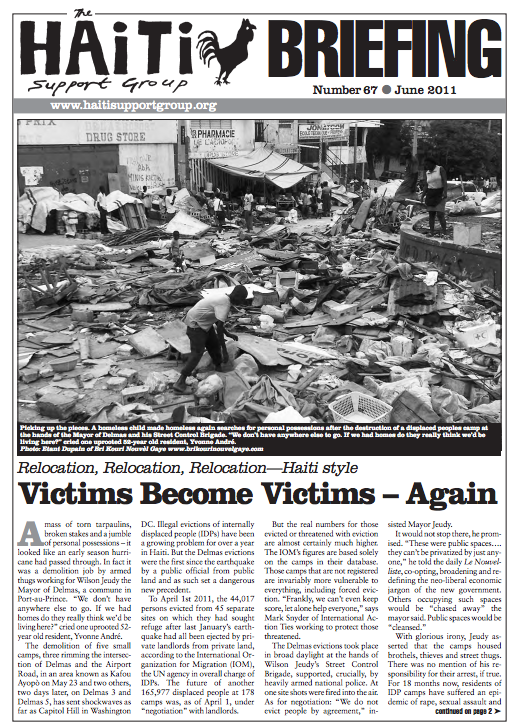 Relocation, Relocation, Relocation—Haiti style
Amass of torn tarpaulins, broken stakes and a jumble of personal possessions – it looked like an early season hurricane had passed through. In fact it was a demolition job by armed thugs working for Wilson Jeudy the Mayor of Delmas, a commune in Port-au-Prince. "We don't have anywhere else to go. If we had homes do they really think we'd be living here?" cried one uprooted 52- year old resident, Yvonne André.
The demolition of five small camps, three rimming the intersection of Delmas and the Airport Road, in an area known as Kafou Ayopò on May 23 and two others, two days later, on Delmas 3 and Delmas 5, has sent shockwaves as far as Capitol Hill in Washington DC. Illegal evictions of internally displaced people (IDPs) have been a growing problem for over a year in Haiti. But the Delmas evictions were the first since the earthquake by a public official from public land and as such set a dangerous new precedent.
To April 1st 2011, the 44,017 persons evicted from 45 separate sites on which they had sought refuge after last January's earthquake had all been ejected by private landlords from private land, according to the International Organization for Migration (IOM), the UN agency in overall charge of IDPs. Victims become victims again.