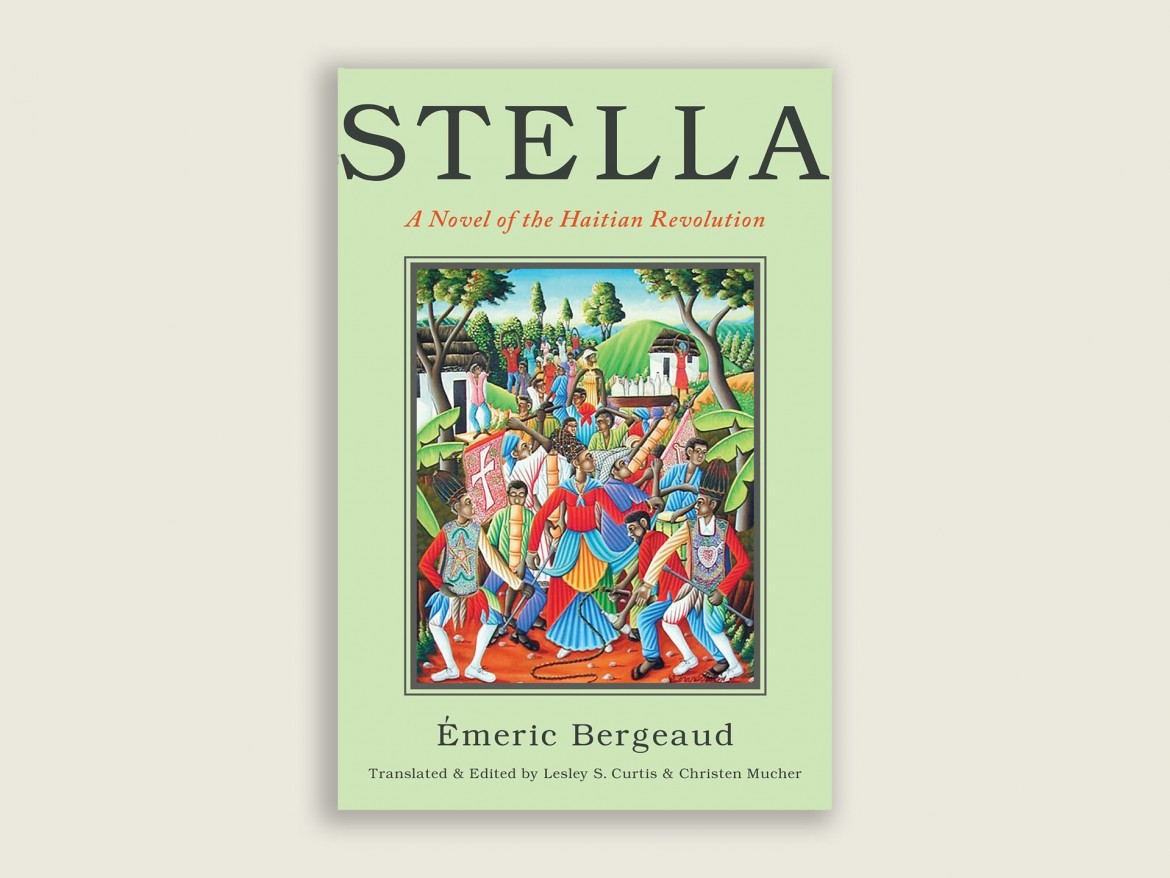 From the moment of its independence in 1804, Haiti was a literary nation, producing primarily poetry and plays. Although by far the most common subject of Haitian writers of the nineteenth century was the struggle for liberation from the colonial power, the tiny francophone elite that produced the literature did so in French and was entirely beholden to the various literary currents and 'schools' that characterized (metropolitan) French literature of that century: Romanticism, the Parnassians, Symbolism…
Writers such as Antoine Dupré (1782-1816), Juste Chanlatte (1766-1828) and François Romain Lhérisson (1798-1859) are today little more than historical footnotes. One should note, however, the creation in 1817 of the literary magazine L'Abeille Haytienne by Jules Soliste (Solime) Milscen and the publication of what is regarded as the first Haitian novel, Stella. The latter is also significant in that its author, Emeric Bergeaud, was an early example of an Haitian writer forced into exile due to his opposition to the dictator of the day (Faustin I). Stella was written in exile in Saint Thomas and published in Paris in 1859, a year after Bergeaud's death.
At the dawn of the twentieth century, Haitian writers still had their eyes fixed firmly on France, as exemplified by the poets grouped around the literary review La Ronde (Etzer Vilaire, Georges Sylvain…). However, an early revival of interest in indigenous forms can be discerned in the popularity of the lodyans. The lodyans, as defined by the Haitian literary critic Pradel Pompilus, is a 'farcical tale told by a professional storyteller to a familiar audience'. This traditional oral form was given literary expression by Justin Lhérisson and Fernand Hibbert in the newspaper Le Soir in the early years of the twentieth century. However, it was to take foreign intervention in order for Haitian literature really to start finding its own voice.
The American occupation of Haiti (1915-1934) shook the self-regarding elites out of their complacency and provoked a cultural backlash that paralleled to a certain extent the armed resistance put up against the US marines by the 'cacos' rebels. In 1928, Haiti's foremost Intellectual Jean-Price Mars attacked the unthinking attachment of Haitian writers and intellectuals to the culture of the 'motherland' in his seminal ethnographic work Ainsi parla l'oncle. This work – a plaidoyer for Haitian language, popular culture and religion – can be seen as the manifesto of the indigéniste movement. It directly influenced important writers such as Carl Brouard and Magloire Saint-Aude who published in the quarterly Les Griots. This journal was the principal organ of the noirist movement, which preached a return to Haiti's African cultural heritage – as embodied in vodou and the kreyòl language (for all that, Brouard, Saint-Aude et al. continued to write and publish in French…).
In the same year (1934) that the US occupation of Haiti ended, the theory of Socialist Realism was adopted by the Congress of Soviet Writers in Moscow. Haiti was not to remain immune to this current, either, with a whole generation of major writers being marked by the call to political commitment. The 1940s were crucial years for the development of Haitian literature: visits by Aimé Césaire (1944), André Breton (1945) and Jean-Paul Sartre (1949) put Haitian literature and, especially, art firmly on the world map. In 1944, shortly after his death, Jacques Roumain's Gouverneurs de la rosée (Masters of the Dew) was published. Gouverneurs…  is the first undisputed Haitian masterpiece. 1945 saw the founding of the magazine La Ruche by three leading young writers, Gérald Bloncourt, René Depestre and Jacques Stephen Alexis. The influence of surrealism and, above all, Alejo Carpentier's brand of 'marvelous realism' is evident in their work. Depestre (1926 – ) was initially best known as a poet (Etincelles, 1945; Gerbe de sang, 1946) but is probably now known more for his novels (Le mât de Cocagne, 1980; Hadriana dans tous mes rêves, 1988). The short career of Alexis left us a series of important novels and short-story collections (Compère Général Soleil, 1955, Les arbres musiciens, 1957, L'Espace d'un cillement, 1959, Romancero aux étoiles, 1960). For Alexis, political militancy went hand in hand with committed writing: in 1961 he returned to Haiti in order to try to raise an insurrection against Duvalier; he was immediately captured by Tontons Makout, publicly tortured, and killed.
The Duvalier years (1957-1986) brought an abrupt end to the brief flowering of literary expression of the late 1940s and 1950s. Any form of dissent from Papa Doc's regime was savagely punished, and that included literary dissent.
Even before 1957, a divide had started to grow between those who left Haiti and those who remained. This divide is still active today. The writers and artists who chose to remain were necessarily limited in their range of subject matter and treatment, with the emphasis being placed, perhaps inevitably, on the esthetic rather than on the overtly political or social. Such is arguably the case with the writers who founded Haïti Littéraire in the early 1960s: Villard Denis (Davertige), Anthony Phelps, René Philoctète, Marie Vieux Chauvet, Roland Morisseau,  Serge Legagneur), and the Spiralism movement founded by Frank Etienne (latterly Franketienne) (1936 – ), Jean-Claude Fignolé (1941 – ) and René Philoctète (1932-1995). Notwithstanding the nomination of Franketienne for the Nobel prize for literature in 2009, Marie Vieux-Chauvet (1916-1973) is arguably the most important of the writers of this group. Her great work Amour, colère et folie was accepted by Gallimard in 1968 but withdrawn from sale by her family, who bought up the entire stock out of fear of reprisals from the Duvalier regime. Shortly thereafter, Vieux-Chauvet went into voluntary exile in the USA. An older generation of writers (Depestre, Métellus) had left Haiti before 1957, but during the Duvalier years a great many more would leave voluntarily or out of fear for their own safety. Most of the best-known Haitian writers today fall into this category: Dany Laferrière (1953 – ), Edwige Danticat (1963 – ), Louis-Philippe Dalembert (1962 – ), Emile Ollivier (1940 – ), Jean-Claude Charles (1949-2008).  Nonetheless,  debate still rages – not least in Haiti – as to whether a writer who has lived in the diaspora for most of his/her life should still be regarded as an 'Haitian' writer. It is doubtless a sign of the times that Edwige Danticat – the most widely-read 'Haitian' writer in the world today – writes in English. In a refusal to be defined by 'identity politics' – much debated in postcolonial studies – Laferrière recently declared via the title of one of his books 'Je suis un écrivain japonais' (I am a Japanese writer). It is noteworthy also that several Haitian writers (from within Haiti and from the diaspora) signed up to Jean Rouaud and Michel Le Bris' 2007 manifesto 'Pour une littérature-monde en français'. The end of the Duvalier dictatorship in 1986 saw the removal of some of the constraints that had stifled literary production in Haiti since the late 1950s. Since then, several writers who never left Haiti and who are of the same generation as Laferrière et al, have started to come to the notice of a readership outside of Haiti. The best-known are: Lyonel Trouillot (1956 – ), Gary Victor (1958 – ), Yanick Lahens (1953 – ) and Kettly Mars. The dissemination of their works was greatly assisted by the creation of publishing houses in Canada (Mémoire d'Encrier) and France (Le Serpent à Plume) specialising in publishing 'world literature'. Other French publishers have also taken up the work of these writers: Vents d'Ailleurs (Victor and Mars), Actes Sud (Trouillot) and Sabine Wespieser (Lahens). Political commitment on the part of Haitian writers is no longer automatically on the side of socialism, as it was for the generation of Depestre and Alexis: in the year before the ouster of Jean-Bertrand Aristide (2004) writers such as Franketienne, Fignolé, Trouillot, Lahens and Victor supported, in word and deed, the attempts by the country's business elites (under the front of the so-called G184) to unseat the democratically elected president before the end of his five-year term.
Despite the exception of Danticat, mentioned above, French has always been the literary language of Haiti. Literature in Kreyòl was pioneered by Félix Morisseau-Leroy [Feliks Moriso-Lewa] (1912-1998) with Dyakout and Wa Kreyon (both 1953); the first novel in Kreyòl – Dezafi – was published by Franketienne in 1975; Lyonel Trouillot has also written a small amount of poetry in Kreyòl. But, in a country with such high rates of illiteracy in any language, it seems likely that literature in Haiti will continue to be written by, bought by, and read by the elites, as well as, increasingly, by readers in France and North America.