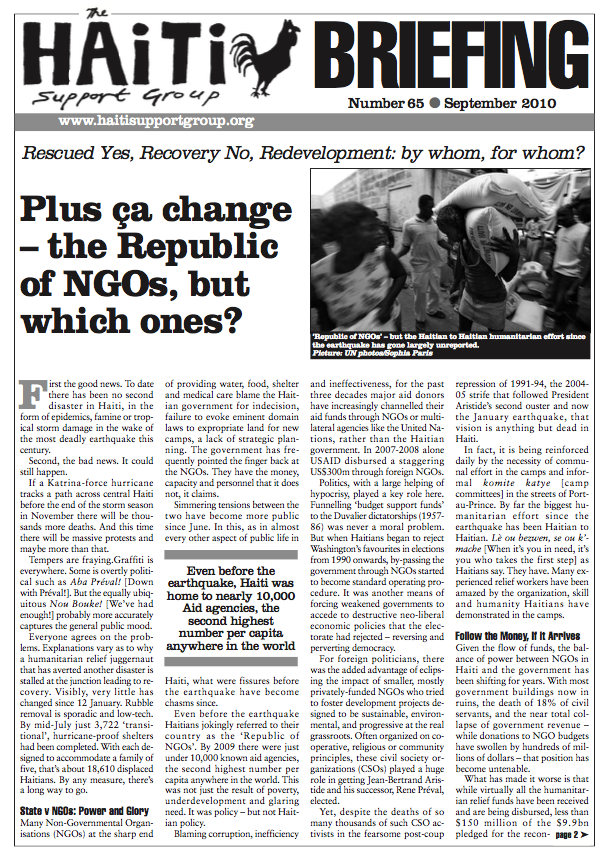 Plus Ça Change – The Republic of NGOs, But Which Ones?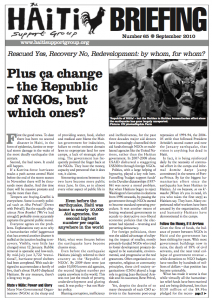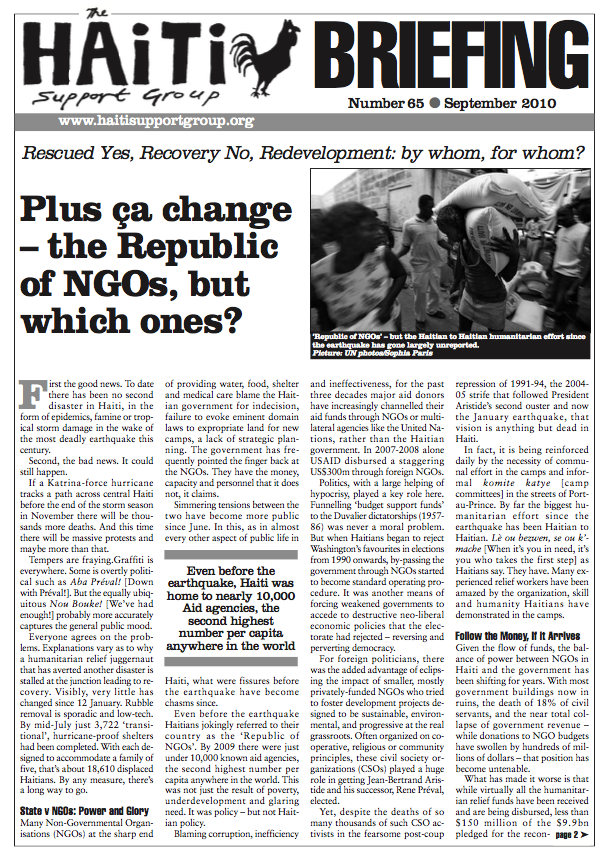 From: Haiti Support Group Briefing May 2010
First the good news. To date there has been no second disaster in Haiti, in the form of epidemics, famine or tropical storm damage in the wake of the most deadly earthquake this century.
Second, the bad news. It could still happen.
"Good luck, hard work, international generosity and perhaps a bit of divine intervention," said one Haitian doctor when asked to account for the "success" in holding the line to date. "But really, we're barely into second gear. We need a lot more of the same and a hell of a lot more political will."
No one is lacking essential life-preserving services, but talk to any of the exhausted emergency relief veterans and they all say the same: they have never seen camps like these. All pretence at meeting the minimum international standards on displaced people's entitlements – to space in particular – have been abandoned.
There is only so long even people always described by journalists as "resilient" can put up with this. Tempers are fraying; reports of increases in violence and sexual assaults probably reflect living conditions and graffiti has appeared everywhere. Some is overtly political such as Aba Preval! [Down with Preval!]. But the equally ubiquitous Nou Bouke! [We've had enough!] probably more accurately captures the general public mood.
If a Katrina-force hurricane tracks a path across central Haiti before the end of the storm season in November there will be thousands more deaths among the 1.5 million living in tents, under tarpaulins, in the ruins. And this time Haitians will not show the extraordinary patience they have to date. They will assembly and protest.
"We are all stretched to our capacity, simply containing a critical situation rather than solving it," said Alastair Burnett, a Red Cross Operations Manager on the sixth-month anniversary of the earthquake. "We're still doing nearly all the basics — sanitation, water, food, shelter. Where is the government?" says one UNICEF employee.
Everyone agrees on the problems. Explanations as to why a humanitarian relief juggernaut that has averted another disaster but is stalled at the junction leading to recovery vary. Visibly, very little has changed. Rubble removal is sporadic, very low-tech and minimal; the communal hurricane shelters planned for each camp have yet to appear, and although several thousand displaced people have been moved from some of the most vulnerable sites, tens of thousands of others have not.
By mid-July, just 3,722 "transitional", hurricane-proof shelters had been completed. With each designed to accommodate a family of five, that's about 18,610 displaced Haitians. By any measure, there's a long way to go.
State v. NGOs: Power and Glory
Many Non-Governmental Organisations (NGOs) at the sharp end of providing water, food, shelter and medical care blame the Haitian government for indecision, failure to evoke eminent domain laws to expropriate land for new camps, a lack of strategic planning. The government has frequently pointed the finger back at the NGOs. They have the money, capacity and personnel that it does not, it claims.
Tensions between the two, simmering since February have become more public since June. The truth is, as ever, deeper. In this, as in almost every other aspect of public life in Haiti, fissures before the earthquake have become chasms since.
Before January 12, Haiti in general and Port-au-Prince in particular was known as the "Republic of NGOs." The country was home to just under 10,000 known aid agencies, the second highest number per capita anywhere in the world. It was not just the result of poverty, underdevelopment and glaring need. It was policy – but not Haitian policy.
Blaming corruption, inefficiency and ineffectiveness, for the past three decades major aid donors have increasingly channeled their aid funds through NGOs or multi-lateral agencies like the United Nations, rather than the Haitian government. The figures are mind-boggling: in U.S. fiscal year 2007-2008 USAID disbursed $300m in Haiti, all through foreign NGOs.
Collectively NGO spending on health, planning and education is believed to have outstripped government spending in the same areas in recent years. But it was only a guess. While the Haitian government published figures, the NGOs did not. "They call it development but it is more like envelopment," as one Haitian peasant told anthropologist Jennie Marcelle Smith.
Politics, with a large helping of hypocrisy, played a key role here. Funneling "budget support funds" to the Duvalier regime, with its world beating levels of corruption and incompetence, was never a moral problem. But when Haitians began to reject Washington's favorites in elections from 1990 onwards, by-passing the government through NGOs started to become standard-operating procedure. It was another means of forcing weakened governments to accede to destructive neo-liberal economic policies that the electorate had rejected – reversing and perverting democracy.
For foreign politicians, there was the added advantage of eclipsing the impact of more traditional, smaller, mostly privately-funded NGOs who tried to foster development projects designed to be sustainable, environmental, and progressive at the real grassroots. Often organized on co-operative, religious or community principles, these civil society organizations (CSOs) as such groups became known played a huge role in spawning the members that got Jean-Bertrand Aristide and his successor, today's President, Rene Preval, elected.
With some experience of participatory democracy, gender rights and a commitment to social provision at base level through the CSOs, Haitian voters went on to demand the same changes at national level. Despite the deaths of many thousands in the fearsome post-coup repression of 1991-94, the 2004-05 strife that followed President Aristide's second ouster and now the January earthquake, that vision is anything but dead in Haiti.
In fact, it is being reinforced daily by the necessity of communal effort in the camps and informal kombits [communs] of the streets of Port-au-Prince. By far the biggest humanitarian effort since the earthquake has been Haitian to Haitian. Le ou bezwen, se ou k'mache [When its you in need, its you who takes the first step] as Haitians say. They have. Many experienced relief workers have been amazed by the organization, skill and humanity Haitians have demonstrated in the camps.
No one has put it better than Sean Penn, the Oscar-winning Hollywood star, in explaining why he has stayed at the Petionville golf club camp where he is still living. "There's a strength of character in the people here who, by and large have never experienced comfort. That's exactly the character our Main Street culture lacks and needs…in other words we need Haiti."
So today as yesterday, the groups universally described as NGOs are not alike – in deed or vision. While most now focus on humanitarian relief, some of these have been in Haiti for years, co-ordinate efforts with local partners, employ local staff, have effective advocacy and research departments, and most crucially have listened, watched and learned for years as local partner CSOs have seen their living conditions worsen in the face of ruinous policies and ideologies imposed from abroad.
Others could not be more contrary. These organizations, often funded by governments rather than private donors, yet also classed as NGOs, tend to focus on employing foreign staff and consultants, have little or no understanding of Haiti's unique culture or society, spent little time, especially now, in rural areas, and are unlikely to partner with locals in a sustainable way. In operating, they are, in crude terms, more likely to engage in handouts to favorites thus fostering the sort of corruption they are the first to denounce in the Haitian public sector.
Many more of this sort of NGO has found itself propelled to Haiti in the wake of the earthquake by their government paymasters or private donations — $1.295bn from the U.S. public alone. They were and are needed, not least by Haitians. But there are always urgent needs in Haiti. When and how does humanitarian relief morph into a vision of long-term sustainable development by means of local jobs, using locally purchased supplies using a pro-poor, people-based decentralized development model, rather than the charity-based, hand-out dependency development approach that has so enchained Haiti? How do we get from here to there?
Follow the Money, If it Arrives
Given the flow of funds, the balance of power between NGOs in Haiti and the government has been shifting for years. With the physical collapse of every government ministry, the death of 18% of civil service employees, the trauma suffered by those who survived and the almost total collapse of government revenue streams – all in the face of NGO budgets which have been swollen by hundreds of millions of dollars in donations — that power balance has shifted radically in the past six months.
What has made it infinitely worse is that while virtually all the humanitarian relief funds have been received and are being disbursed, less than $100 million of the $9.9bn pledged for the reconstruction of Haiti at the donors Conference in New York on March 31 has been banked. To date Brazil, Venezuela and Norway are the only states that have deposited cheques. And only a fraction of that has gone to the Haitian state.
"They ask me to move more reconstruction projects when the money is still on hold," chuckles Jean-Max Bellerive Haiti's Prime Minister. "I can't even pay our regular bills. Our income has gone down, not up." Leslie Voltaire, the Haitian government's liaison to the UN confirms a convergence of interest in perpetuating a myth. "The international community does not want to admit it has not come up with the money, the Haitian government does not want to admit it has not received it," he claims. "Meantime, the Haitian people think the government has stolen it."
Before the earthquake it had been recognized that the NGO-Haitian government power relationship needed to shift back decisively towards the government, if only for technical reasons such as co-ordination and planning. It has been clear for years that NGO activity in any developing country that does not deliberately and determinely build public capacity, work on agreed government plans, train and employ locals, buy local products and handover infrastructure when built, undermines not just government, but the emergence of local businesses – the private sector.
"They ask why the government is weak but they never ask what they are doing to make it stronger – or if they have made it weak," complains one Haitian trade unionist. "What do you say — killing with kindness?"
A Restavek Government
The desperate need in the immediate aftermath of the earthquake has almost unwittingly massively reinforced power relationships that needed to be changed to offer any hope at the next stage, construction and development. Nothing illustrates more starkly the almost total eclipse of the government than the formation of the Interim Haiti Reconstruction Commission (CIRH) – 50% of whom are foreign donors. With parliament dissolved, President Preval in the last months of his term and the United Nations, if anyone, running the country, the imploded National Palace seems a fitting symbol of the collapse of national power.
"The CIRH has made Haitian government a restavek [a child servant or slave]," says Antonal Mortine, a human rights activist. "Saving lives has been the raison d'etre for this and who can argue with that. But the price has been our fragile democracy — the minimal accountability we had through elected officials," says one Haitian exile. "It will be a long struggle to win back the people's powers and God knows what the price will be."
It's a valid point. "Interim" bodies like the CIRH have a habit of filling proclaimed vacuums and becoming semi-permanent in Haiti – the U.N. force, now in it's seventh year of deployment being but one example. Such bodies, invariably devised far from Port-au-Prince also have a long track record of trying to "stabilize" (the UN force is the UN Stabilization Mission) or "reconstruct" (the CIHR is the Interim Haiti Reconstruction Commission) systems or structures that were deemed not to have worked in the first place – hence the intervention. Yet, as their titles state and mission statements confirm, the objective is to get things back to the way they were.
All experience in development shows that an effective and accountable state apparatus at municipal, provincial and national level is essential to any measure of success. In contrast, externally-imposed, management solutions such as the CIHR rarely, if ever, succeed in the long term. "The "just do something" mentality can lead to big mistakes which we will rue in years to come," says Duncan Green, head of Research at Oxfam in reviewing the new Haitian landscape. "No politics, no exit strategy, no voice for Haitian civil society? Where are they represented in all this? They are the people who have already been "reconstructing" Haitian society for years."
The experienced local "reconstructors" are there – and they are being joined by others. Watching thousands of new organizers and activists emerge from the camps, transmuting their probing questions about their living conditions to national and even international policy, it is hard to avoid the conclusion that a new movement, or a reinforced reincarnation of an old movement, is taking shape in Haiti.
Amphorous, diverse, and diffuse, at base level, at least, it is filling the gap left by government and those that will be left by the NGOs that leave. This movement is working hand-in-hand with the more enlightened NGOs (the "hand-up" rather than "hand-out" agencies, as one shorthand term put its), who are in Haiti for the long-term and are now training every type of organiser and doer: flood prevention "engineers", water technicians, health promoters, small business co-operative and communal canteen staff.
As new and reinvigorated old CSOs emerge in Haiti, new models will be needed for a new circumstance. Ironically, Haiti, the hopeless case to so many, provides one of the best models there is for moving sustainably from immediate relief to long-term development independence, for integrating NGO work with a government ministry, of foreign aid workers working themselves out of a job.
In a future issue of the Haiti Briefing we will ask what both NGOs and the Haitian government can learn from Zanmi Lasante, and if what has worked in the health care sector, can, with the same persistence and vision, be applied to other fields.