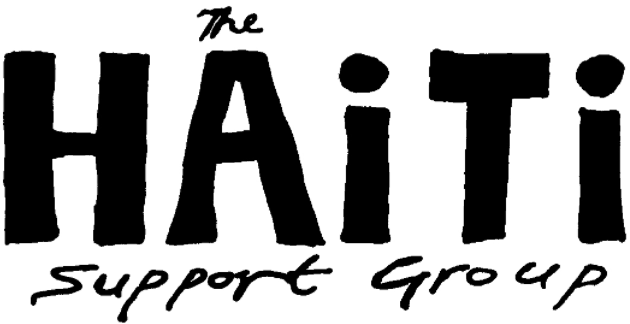 Photo: © Joris Willems
Worrying Increase in Intimidation of Journalists
The following four recent reports/declarations refer to a disconcerting increase in election violence and journalistic intimidation (Ed.)
—   —   —
Trois colleurs d'affiches de la candidate à la présidence du Rassemblement des Démocrates Nationaux Progressistes (RDNP) Mirlande Hyppolite Manigat, tués à Port-au-Prince
Le Réseau National de Défense des Droits Humains (RNDDH) accuse la Police Nationale d'Haïti (PNH) de s'être livrée à des « exécutions sommaires »
mardi 8 mars 2011, 
Trois jeunes hommes qui collaient des affiches de la candidate à la présidence du Rassemblement des Démocrates Nationaux Progressistes (RDNP), Mirlande Hyppolite Manigat, ont été retrouvés morts, ont annoncé mardi à l'Agence France Presse les familles des victimes.
Les corps mutilés des trois hommes ont été découverts mardi matin par leurs familles qui les recherchaient depuis leur disparition, rapporte l'AFP.
"Mon mari et deux autres camarades ont été emmenés samedi par une patrouille policière alors qu'ils collaient des photos de Mme Manigat non loin du Palais présidentiel. Nous avons retrouvé leurs cadavres à la morgue de l'hôpital général", a déclaré Missindy Guillou, épouse d'une des victimes.
L'AFP indique avoir contacté un responsable de la Police Nationale d'Haïti (PNH) qui n'a pas souhaité réagir. Le Réseau national de défense des droits humains (RNDDH) a condamné des "exécutions sommaires" menées par la police haïtienne (PNH).
"La police ne peut arrêter pour tuer, elle doit déférer des prévenus à la justice. Il s'agit d'exécutions sommaires. Ces jeunes ont été torturés et exécutés", a déclaré Marie-Yolaine Gilles du RNDDH, qui a demandé aux responsables de la PNH d'ouvrir rapidement une enquête.
"Le véhicule de la police est identifié, le policer en charge de la patrouille est connu", a indiqué Mme Gilles.
On ignore si les trois victimes étaient des militants ou de simples colleurs d'affiches rémunérés pour cette tâche. Le bureau de campagne de la candidate n'a pas pu donner de précisions dans l'immédiat, précise l'AFP.
"Mardi matin, nous avons retrouvé les cadavres, les os brisés par des coups de matraques", a indiqué en pleurs à l'agence Michèle Obas, une jeune femme se présentant comme une sympathisante de la candidate Mirlande Manigat.
Un juge de paix de Port-au-Prince a constaté mardi matin le décès des trois jeunes, mais n'a pas souhaité faire de déclarations.
Un deuxième tour des législatives et présidentielles haïtiennes doit se tenir le 20 mars prochain. La campagne électorale, pour la présidentielle notamment, bat son plein, avec la multiplication des rassemblements publics des deux candidats à la présidence, Mirlande Hyppolite Manigat (RDNP) et Michel Joseph Martelly alias « Sweet Micky » (Repons Peyizan). [jmd/Radio Kiskeya]
http://www.radiokiskeya.com/spip.php?article7575
—   —   —
Violences électorales au Cap : Le camp Manigat accuse, l'équipe Martelly condamne
Assimilant à de la panique la réaction des partisans du camp opposé à un rassemblement monstre de la candidate démocrate-chrétienne, André Michel, l'un de ses alliés, annonce le passage ce week-end de la caravane électorale dans le sud et les Nippes
vendredi 11 mars 2011,
L'un des alliés de Mirlande Hyppolite Manigat, Me André Michel, a dénoncé vendredi l'implication la veille de partisans du candidat Michel Martelly dans une série d'attaques violentes qui visaient à perturber un imposant rassemblement de sa rivale démocrate-chrétienne au Cap-Haïtien (274 km au nord de Port-au-Prince).
Qualifiant de "réactions de panique" du camp Martelly les jets de pierre et de bouteille essuyés par le cortège de sa favorite de la route de l'aéroport du Cap à la place Notre-Dame, Me Michel renouvelle la détermination de son équipe à ne pas céder aux tentatives d'intimidation et à poursuivre jusqu'au bout la campagne électorale.
Ainsi, après des passages à succès dans le nord-ouest et le nord, la caravane de Mirlande Manigat devait toucher ce week-end les départements du sud et des Nippes (sud-ouest).
Concernant le premier débat présidentiel ayant opposé mercredi les deux candidats, André Michel critique vertement l'arrogance selon lui dont a fait montre Michel Martelly vis-à-vis des journalistes. Une telle personnalité ne peut accéder à la Présidence d'Haïti, estime le dirigeant du groupe 77.
Pour sa part, l'un des principaux conseillers du candidat de Repons Peyizan, Me Grégory Mayard-Paul, a condamné les graves incidents enregistrés jeudi au Cap-Haïtien affirmant que la violence doit être réprouvée d'où qu'elle vienne.
Se montrant attaché au respect de la volonté populaire, le représentant de Michel Martelly explique que la campagne se déroule dans une atmosphère très passionnée. Par conséquent, dit-il, des complots peuvent être ourdis à dessein pour faire porter à son camp la responsabilité d'actes de violence électorale.
Plusieurs personnes ont été blessées et soignées à l'hôpital à la suite d'interventions violentes de partisans du candidat-chanteur contre un meeting de sa rivale Mirlande Manigat qui réunissait plusieurs dizaines de milliers de personnes dans la deuxième ville du pays.
L'atmosphère semble devenir de plus en plus lourde de menaces et d'incertitudes en Haïti à tout juste une semaine du second tour des présidentielles et législatives, le 20 mars. spp/Radio Kiskeya
—   —   —
Haitian media should be wary of Michel Martelly's threats  
Saturday 12 March 2011
Declaration of Groupe Médialternatif, 11 March 2011
Groupe Médialternatif takes very seriously the threats made by presidential candidate Joseph Michel Martelly against Gotson Pierre, editor and journalist for AlterPresse, the group's online news agency, during a televised debate on March 9, 2011.
Related to a dossier of general public interest concerning debts owed by Martelly to U.S. banks, when asked about his management capacity and his ability to handle his eventual responsibility, the candidate flushed with anger and blurted out: "Let him bring them [the questions] on! They sent him to attack me! I'm ready [to confront him]!"
Martelly explicitly evoked possible reactions "by street heat."
Ought one to believe that Martelly has a list of journalists he won't tolerate, or whom he thinks are against him?
The serious declarations of the candidate ought to be considered as threats to freedom of the press and freedom of speech, freedoms only acquired since February 7, 1986, when the bloody Duvalier dictatorship fell.
Groupe Médialternatif salutes the watchfulness of the national and international media, which were quick to reveal these deviations, and invites all members of the press and of society in general to draw the logical conclusions from this aggression towards journalists and the media from Martelly, who is after the president's seat.
Groupe Médialternatif reserves the right to take the appropriate actions in the face of a resurgence of institutional threats against the free practice of journalism as guaranteed by the March 29, 1987, Constitution.
For the Management Council of Groupe Médialternatif,
Ronald Colbert
Source: http://www.alterpresse.org/spip.php?article10739
—   —   —
Haiti-Presse : L'Association des journalistes haïtiens condamne les propos agressifs et menaçants de Michel Martelly  
vendredi 11 mars 2011
Note de presse de l'AJH
Document soumis à AlterPresse le 11 mars 2011
L'Association des journalistes haïtiens (AJH) condamne les propos agressifs et menaçants de Michel Joseph Martelly à l'endroit des journalistes participant à un débat télévisé, le mercredi 9 mars 2011. Les termes employés par le candidat à la présidence rappellent que, dans une période pas trop lointaine, un président de la république avait manifesté de pareilles agressivités à une question d'un journaliste au Palais national.
Ces propos poussent l'AJH à se souvenir du nombre de journalistes et de médias qui ont été victimes lors des mouvements de violence, au nom de Michel Joseph Martelly, au lendemain de la publication des résultats préliminaires du premier tour des législatives et de la présidentielle, le 7 décembre 2010.
Face à ces différents actes, l'Association des journalistes haïtiens exprime ses inquiétudes quant au respect de la liberté de la presse dans l'éventualité d'une présidence de Michel Joseph Martelly.
L'AJH, en appelant à la retenue, rappelle aussi à tous les journalistes et à tous les médias l'impérieuse obligation qui leur est faite d'un traitement et d'une diffusion responsable de l'information dans ce contexte particulier de la vie nationale.
L'AJH croit dans la démocratie et dans l'établissement d'un État de droit qui garantissent l'exercice libre et responsable du métier d'informer.
Jacques Desrosiers 
Secrétaire général
Source: http://www.alterpresse.org/spip.php?article10737