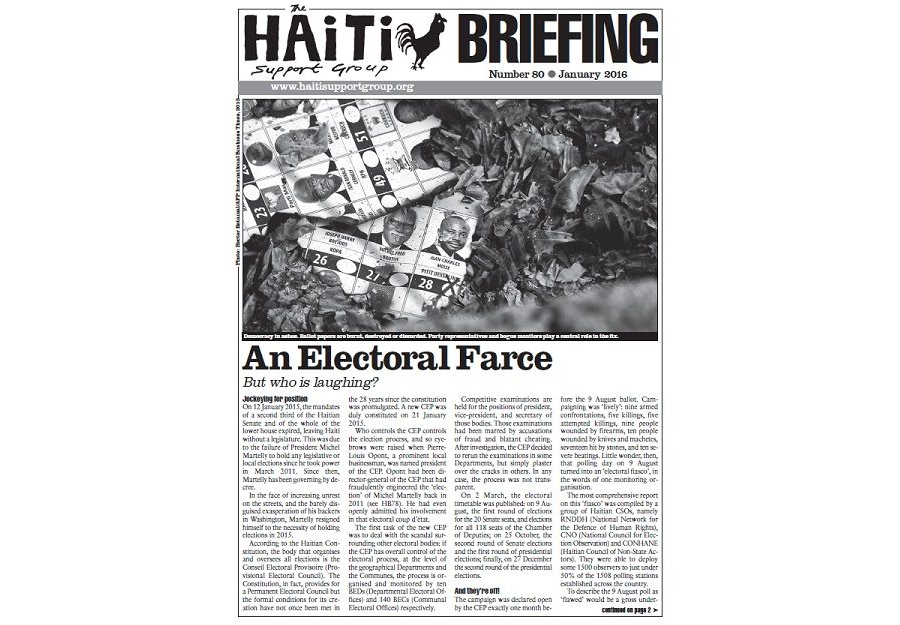 Version
Download

142

File Size

1.18 MB

Create Date

1st September 2016
Today marks the sixth anniversary of the Haiti earthquake and the country's future is looking bleaker than ever: Fraudulent practices by party 'representatives' and bogus elections monitors, an almost entirely corrupt political class and demonstrably open contempt on the part of the international community for the Haitian people. Our new Haiti Briefing No. 80 entitled An Electoral Farce. But who is laughing?provides detailed analysis on the current situation.
Here at the Haiti Support Group we thought that the bar of 'credibility' had been driven as low as it could go in 2011. We were wrong. Please read our recently published Beginner's Guide to Fixing Elections for a succinct overview of this assault on democracy.
After much delay, elections in Haiti have now been scheduled for 24 January and should bring an end to President Martelly's rule by decree, but who will step into his shoes?
Please share our new Briefing widely. Haitian democracy is in crisis and the world needs to know!