THE HAITI BRIEFING - OVER 30 YEARS OF GROUNDBREAKING REPORTING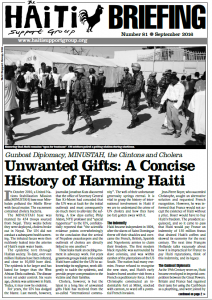 Since 1992, the Haiti Briefing has provided our members, ardent Haiti watchers and decision-makers with in-depth analysis of Haiti's development issues, reflected through the voices of popular organisations on the ground.
The Haiti Briefing is available in English, French and Spanish, is the key publication of the Haiti Support Group. The Briefing covers a broad number of themes covering contemporary issues of interest in Haiti.
Our team of Haiti watchers includes grassroots activists and campaigners, members of the Haitian and Caribbean Diaspora, legal experts, journalists, academics and development specialists. We are always looking for new writers and contributors so please click here to contact a member of our editorial team.
You can search our Haiti Briefing archive using specific keywords below:
Browse all our Haiti Briefings here!