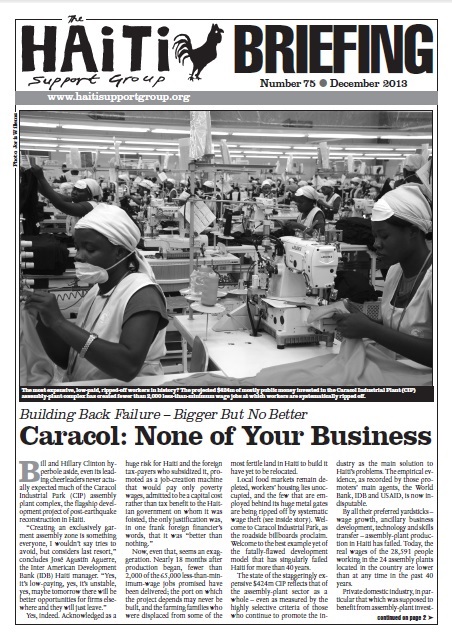 Version
Download

211

File Size

1.80 MB

File Count

1

Create Date

27th December 2013

Last Updated

1st August 2021
Building Back Failure – Bigger But No Better Caracol: None of Your Business (HB75)
Haiti Briefing 75 analyses the situation at the Caracol Industrial Plant, a $424,000,000 assembly-plant "development" project that has created fewer than 2000 less-than-minimum wage jobs. Production may benefit foreign investors and consumers but it certainly is of no benefit to Haitian workers.
In the first article, we question the viability and sustainability of the CIP. In particular, we look at how this development model fails to profit Haitian workers in terms of wages or skills or the Haitian government in terms of taxes or revenue.
In the second article, we show how wage theft in the Haitian apparel industry has become systematic. Many workers receive 200 gourdes a day which is an out-and-out violation of minimum wage law. Put simply, wages are not enough to live on due to the institutionalized non-compliance on workers' basic rights regarding pay, safety and working conditions.
The Haiti Briefing, published in English and French, is the key publication of the Haiti Support Group. Published quarterly, since 1992, it provides our members, Haiti watchers and decision-makers with analysis of Haiti's development issues, reflected through the voices of popular organisations on the ground. All issues of Haiti Briefing are now free for all to download! (simply register at the link first if prompted) - please click here. 

The Briefing is also available free in print version, please contact [email protected] to order paper copies.
Attached Files
| File | Action |
| --- | --- |
| haiti_75_english_web.pdf | Download |