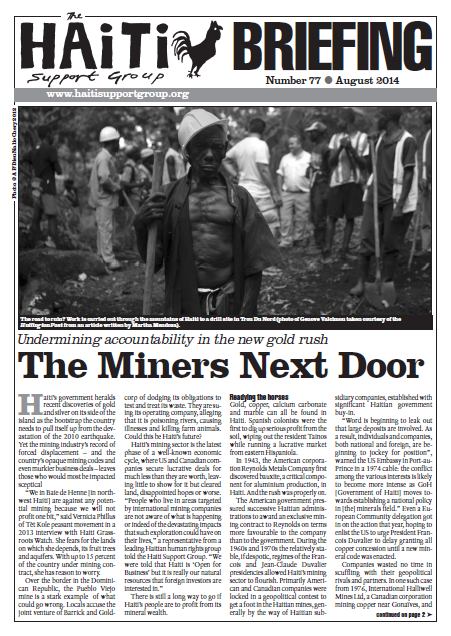 Version
Download

875

File Size

300.60 KB

File Count

1

Create Date

1st August 2014

Last Updated

21st February 2023
Undermining accountability in the new gold rush: The Miners Next Door (HB77)
Claire Lauterbach; Andy Leak and Eve Hayes de Kalaf (eds)
Haiti's government heralds recent discoveries of gold and silver on its side of the island as the bootstrap the country needs to pull itself up from the devastation of the 2010 earthquake. Yet the mining industry's record of forced displacement – and the country's opaque mining codes and even murkier business deals – leaves those who would most be impacted sceptical.
This Haiti Briefing examines the current state of mining in Haiti, the role of global mining corporations in taking advantage of local mining codes and the interest of foreign investors in exploiting Haiti's natural resources. We also speak to local groups who have opposed the close circles within the Haitian mining industry and who tell us of the struggles and threats they are currently facing.
Haiti's mining sector is the latest phase of a well-known economic cycle, where US and Canadian companies secure lucrative deals for much less than they are worth, leaving little to show for it but cleared land, disappointed hopes or worse. People who live in these areas are often unaware of the explorations taking place or indeed the impact that such operations could have on their lives and natural resources.
Bibliography: Haiti Support Group
Attached Files
| File | Action |
| --- | --- |
| Undermining accountability in the new gold rush The Miners Next Door.pdf | Download |