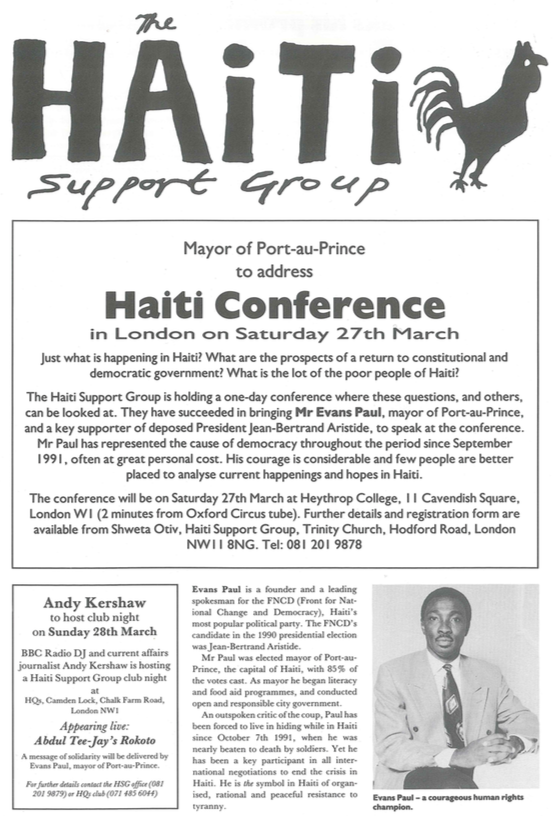 Mayor Evans Paul is a founder and leading spokesman for the Front for National Change and Democracy, Haiti's most popular political party. The FNCD's candidate in the 1990 presidential election was Jean-Bertrand Aristide.
Mr Paul was elected mayor of Port-au-Prince, the capital of Haiti, with 85% of the votes cast. As mayor he began literacy and food aid programmes, and conducted open and responsible city government.
An outspoken critic of the coup, Paul has been forced to live in hiding while in Haiti since October 7th 1991, when he was nearly beaten to death by soldiers. Yet he has been a key participant in all international negotiations to end the crisis in Haiti. He is the symbol of organised, rational and peaceful resistance to tyranny.
Just what is happening in Haiti? What are the prospects of a return to constitutional and democratic government? What is the lot of the poor people of Haiti?
The Haiti Support Group is holding a one-day conference where these questions, and others, can be looked at. They have succeeded in bringing Mr Evans Paul mayor of Port-au-Prince, and a key supporter of deposed President Jean-Bertrand Aristide, to speak at the conference. Mr Paul has represented the cause of democracy throughout the period since September 1991, often at great personal cost. His courage is considerable and few people are better placed to analyse current happenings and hopes in Haiti.