Keep up with the latest news and views in and on Haiti here.
The Haiti Support Group has been involved with news in Haiti for over 30 years and is acknowledged by many to be one of the most reliable and balanced sources of information about Haiti.
We are independent from any political party or movement in Haiti and our aim is to ensure that the world receives reliable information and analysis from a grassroots perspective.
Many UK and international news media rely on the Haiti Support Group for briefing and comment. You can read more about our media involvement here.
In this latest news section we provide a selection of what we consider the best news reporting by Haitian and international sources.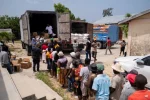 Haitian resistance is emerging against a repeat of the aid failures following the 2010 earthquake response. Original article here. Written
Read More »