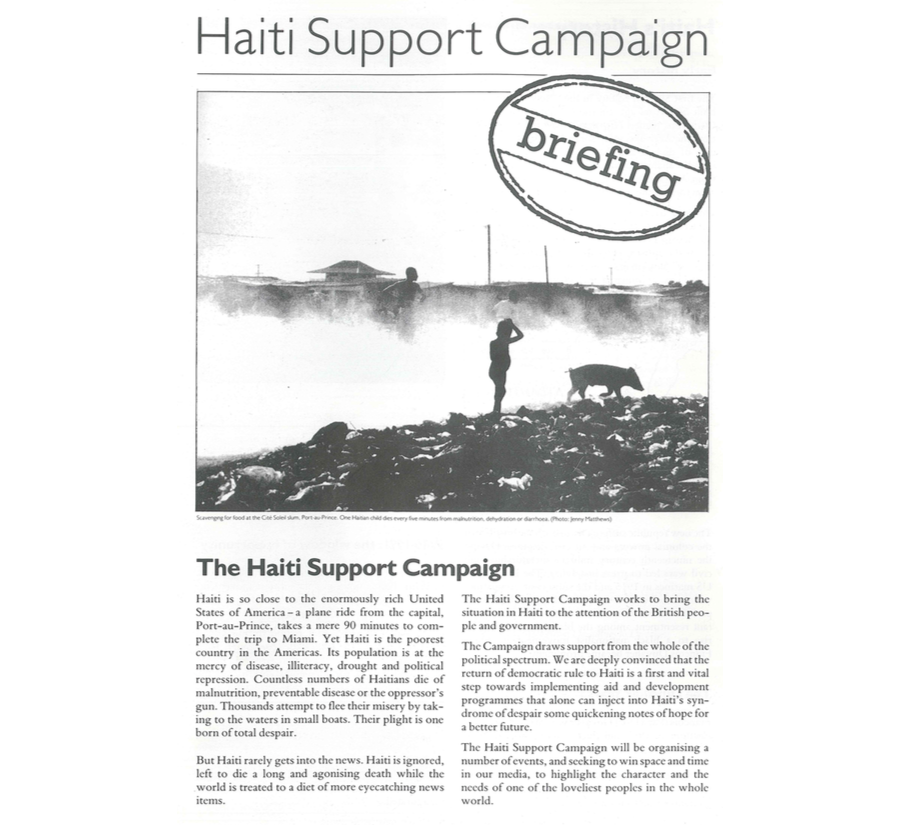 Version
Download

158

File Size

5.01 MB

Create Date

2nd March 1990
Haiti is so close to the enormously rich United States of America - a plane ride from the capital, Port-au-Prince, takes a mere 90 minutes to complete the trip to Miami. Yet Haiti is the poorest country in the Americas. Its population is at the mercy of disease, illiteracy, drought and political repression. Countless numbers of Haitians die of malnutrition, preventable disease or the oppressor's gun. Thousands attempt to flee their misery by taking to the waters in small boats. Their plight is one born of total despair.
But Haiti rarely gets into the news. Haiti is ignored, left to die a long and agonising death while the world is treated to a diet of more eye-catching news items.
The Haiti Support Campaign works to bring the situation in Haiti to the attention of the British people and government.
The campaign draws support from the whole of the political spectrum. We are deeply convinced that the return of democratic rule to Haiti is the first and vital step towards implementing aid and development programmes that alone can inject into Haiti's syndrome of despair some quickening notes of hope for a better future.
The Haiti Support Campaign will be organising a number of events, and seeking to win space and time in our media, to highlight the character and the needs of one of the loveliest peoples in the whole world.