This summer, the Haiti Support Group will be celebrating 30 years of advocacy, activism and campaigning in solidarity with the Haitian people. On 18 June, we will be having a party at the fantastic Haitian Grill Shack & Tiki Bar, London. Join us from 6 p.m. to enjoy the best rum in town! Tickets – which are selling fast – are available here.
Ahead of our big party this summer, we will be holding our annual general meeting to discuss the general running of our organisation and agree our advocacy strategy for the coming year. If you would like to come along, our AGM will start at the Grill Shack and Tiki Bar, 15 The Vale, London W3 7SH at 4 p.m. Please email [email protected] for more information and/or to confirm you wish to participate in the AGM.
If you want to only come to the party (not the AGM) and/or plan to join us after the AGM, please ensure that you purchase your ticket in advance.
As well as a party, we are continuing to raise money to support our work. As part of a very special offer, the Haiti Support Group is selling a limited edition Leah Gordon Kanaval silver halide photographic print at the excellent price of £49 per 30 x 30 cm. Leah's work explores carnival from its grassroots, portraying the boundaries between art, anthropology, colonialism and religion. All funds raised will be used to support our advocacy and campaigning efforts.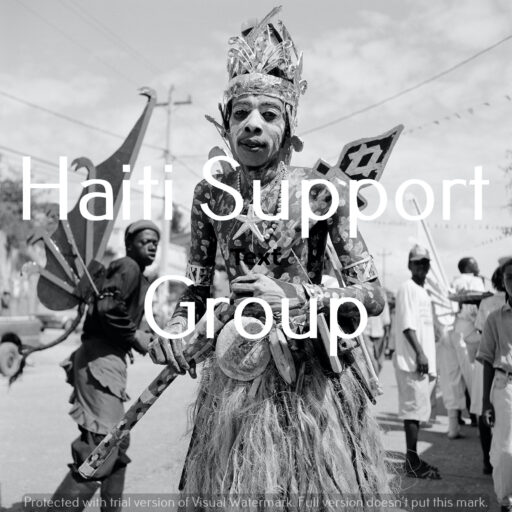 Once more, we would like to thank you for helping to keep our small group going. We've faced many challenges over the years but we're still here and staying strong!!! Please celebrate with us – there will be dancing, rum and Haitian music! If you want to make a general donation to the HSG, you can do so via this link.