Join the Haiti Support Group for two great events this summer to celebrate Haitian Flag Day and 30 years of campaigning and advocacy!
Haitian Flag Day – organised by the Haitian Heritage Group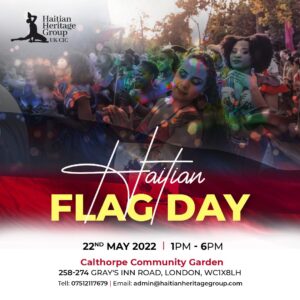 On Sunday 22 May, the Haiti Support Group will celebrate the fantastic work of the Haitian Heritage Group by participating in Haitian Flag Day from 1-6 p.m.
The event will take place at the Calthorpe Community Garden and is a short walk from King's Cross station. If you want to come along, you can register here.
The Haiti Support Group 30 Year Anniversary Party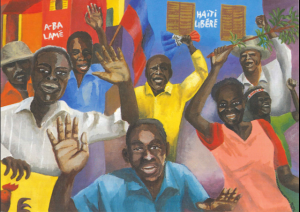 This summer, the Haiti Support Group will be celebrating 30 years of advocacy, activism and campaigning in solidarity with the Haitian people. On 18 June, we will be having a party at the fantastic Haitian Grill Shack & Tiki Bar, London. Join us from 6 p.m. to enjoy the best rum in town! Tickets – which are selling fast – are available here. Please email us if you would like to attend our AGM which will start ahead of the party at 4 p.m. We are also taking nominations for our Executive Committee. If you would like to be considered, please send your name, professional affiliation and short bio to: [email protected]
Limited Edition Leah Gordon Kanaval Prints for Sale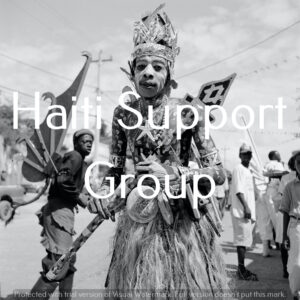 To commemorate this very special year for the Haiti Support Group, we are continuing to raise money to help fund our advocacy and campaigning efforts. As part of a very special offer, the we are selling a limited edition Leah Gordon Kanaval silver halide photographic print at the excellent price of £49 per 30 x 30 cm. Leah's work explores carnival from its grassroots, portraying the boundaries between art, anthropology, colonialism and religion. All funds raised will be used to support our advocacy and campaigning efforts. PLEASE NOTE THIS SALE HAS NOW ENDED