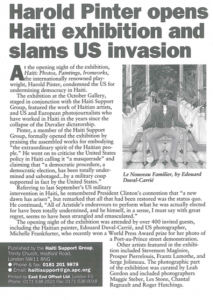 London, 26 April 1995.
At the opening night of the exhibition, Haiti: Photos, Paintings, Ironworks, the internationally renowned playwright, Harold Pinter, condemned the US for undermining democracy in Haiti.
The exhibition at London's October Gallery, staged in conjunction with the Haiti Support Group, features the work of Haitian artists, and North American and European photo joumalists who have worked in Haiti in the years since the collapse of the Duvalier dictatorship.
Over the last three decades Pinter has written scores of successful plays including The Birthday Party, and The Caretaker, and screenplays such as The Servant, The Go Between and The Handmaid's Tale. Last month he was awarded the British Literary Prize for lifetime achievement. Pinter, a member of the London-based Haiti Support Group, formally opened the exhibition by praising the assembled works for embodying "the extraordinary spirit of the Haitian people."
He went on to criticise the United States policy in Haiti calling it 'a masquerade' and claiming that "a democratic procedure, a democratic election, has been totally undermined and sabotaged … by a military coup supported in fact by the United States." Referring to last September's US military intervention in Haiti, he remembered President Clinton's contention that "a new dawn has arisen" as a result, but remarked that all that had been restored was the "status quo".
He continued:
All of Aristide's endeavours to perform what he was actually elected for have been totally undermined, and he himself, in a sense, 1 must say with great regret, seems to have been strangled and emasculated.
The opening night of the exhibition, which runs until 17 June, was attended by over 400 invited guests, including the Haitian painter, Edouard Duval-Carrie, and US photographer, Michelle Frankfurter, who recently won a World Press Award prize for her photo of a Port au-Prince street demonstration.
Other artists featured in the exhibition include Stevenson Magloire, Prosper Pierrelouis, Frantz Larnothe, and Serge Solimeau.
Photographers contributing include Maggic Steber, Les Stone, Chantal Regnault and Roger Hutchings. The exhibition was curated by Leah Gordon and the October Gallery, with the assistance of the Carlos Jara Gallery and Catherine Orenstein.
The Haiti Support Group works to develop solidarity in Britain with the struggle for genuine democracy and social justice in Haiti. .