Below we list a number of organisations based in Haiti, the UK and elsewhere. We are not formally linked to any of these organisations, and do not necessarily share their views, although we often collaborate together. We do, however, believe that the links will certainly be of interest to Haiti Watchers wishing to learn more about Haiti and to support the country in different ways.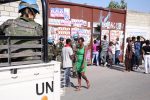 UN DPKO Medical and Field Support Protocols
"Ensure Prompt and Appropriate Follow Up"
The crucial steps to be taken if we are to avoid this happening again
In December 2010 the UN Secretary General announced his intention to form an independent panel of experts to investigate and advise on the cholera outbreak in Haiti.
In January 2011, he named the four expert members.
In February they visited Haiti and began their fieldwork.
On May 3 they handed in a 32-page report that began and ended with 7 specific recommendations. Those recommendations are amongst our handouts here.
Read them and you will see that the first three pertain to UN internal procedures, medical screening, treatment, vaccination and sanitation in the field.
Read More »